FESTIVALS AND CELEBRATIONS
REPUBLIC DAY – 2023
We celebrated Republic Day on 26.01.2023. Illam Thedi Kalvi (ITK) first anniversary was also celebrated with this function. Mr.Chandrasekar, Regional & District Consultant and Committee Member, Illam Thedi Kalvi (ITK) was the Chief Guest. Various competitions were conducted and prizes were given to pupils.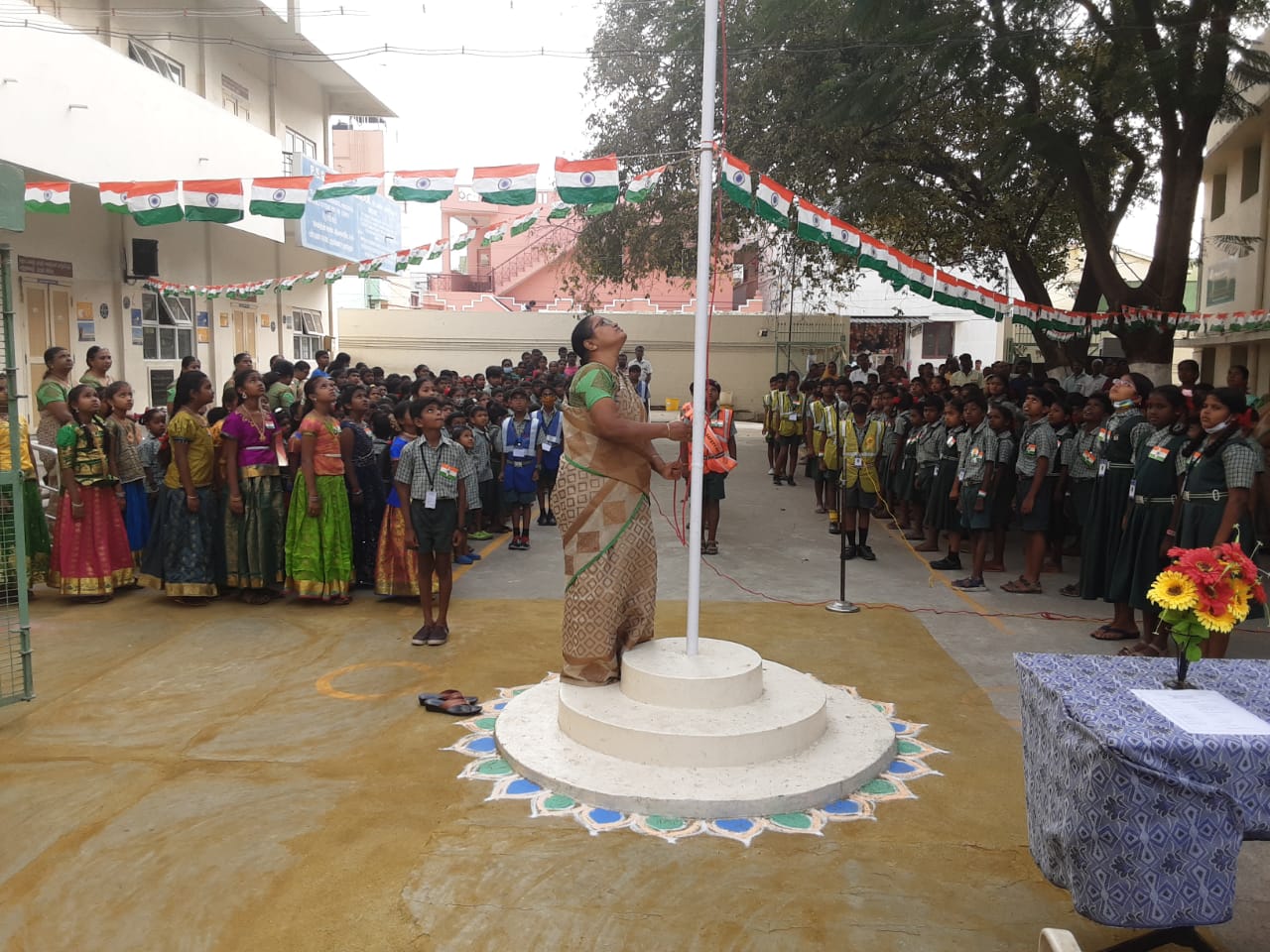 ---
Pongal is celebrated in the presence of the pupils in our school every year. The pupils are learned and known about our culture and tradition.
We celebrated Pongal festival by keeping sweet Pongal. Pupils bring raw materials and teachers kept Sweet Pongal and distributed to pupils on 13.01.2023.
---
Saraswathy Pooja is celebrated in our school every year. Vasant Panchami, also called is a festival that marks the preparation for the arrival of spring. The festival is celebrated by people in various ways depending upon the region in the life in the Indian subcontinent.
---
GOLU
Golu is celebrated in our school every year. It is the festive display of dolls and figurines in South India during the autumn festive season, particularly around the multiday Navaratri (Dussehra, Dasara) festival of Hinduism.
In our school, Navarathiri Golu was kept on 28.09.2022 and Vijayadhasami was celebrated in our school on 05.10.2022 and 4 pupils were admitted in Stds  I, II, III & V.
---
Seed balls are given at the time of school prayer meeting every day on the pupils birthdays to encourage the habit of planting trees.
---
AMUTHA SURABHI
Interested pupils can bring food, vegetables from their home and they can drop it in the "Amutha Surabhi" box from which needy pupils can have that food because many pupils come to school without breakfast. Besides food, dresses, note books, etc. can also be deposited for the benefit of the needy. It develops the helping habits among the pupils.
---
KALAI ARUVI
"KALAI ARUVI" is a competition conducted among the schools of S.S.Kulam Block. Our school conducted the semi-final of the above competition in 2018-2019 and the final in 2019-2020.
---
MILLET FESTIVAL
We celebrate MILLET FESTIVAL  every year in our school to create  awareness among the pupils and parents about our traditional food habits for the health of all.
---
KAMARAJAR BIRTHDAY – 2022
Kamarajar Birthday celebrated in our school on 15.07.2022. Mrs.Pramela, BT Assistant, PSG Sarvajana Higher Secondary School, invited as a Chief Guest to this programme. Various competitions was conducted for pupils and prizes distributed to them.
---
INDEPENDENCE DAY – 2022
We celebrated our Independence Day on 15.08.2022 in our school. Fancy dress competition was held for Std I & II pupils. Pupils dressed like the people of other states. Various competitions were conducted for pupils and prizes were distributed to them. Alumni sponsored prizes after they had conducted Alumni meeting in our school on 15.08.2022. Sweets were distributed for pupils and parents in the school.
---
KRISHNA JAYANTHI – 2022
Krishna Jayanthi was celebrated in our school on 22.08.2022.
98 pupils dressed as Krishna ,Radha and Gopiyar.
"URIYADI "was conducted.
Pupils performed dances, bhajans and kolattam.
10 pupils of our school performed the above Cultural programmes in Karivardharaja Perumal temple on the same day from 7.00 p.m. to 9.00 p.m.
---
TEACHERS DAY – 2022
Teachers' Day was celebrated in our school on 05.09.2022.

Pupils gave speech about teachers.

We conducted games for teachers. Our management gave lunch and gifts for staff

.
---
ONAM CELEBRATION – 2022
Onam was celebrated  in our school on 09.09.2022.
Pupils drawn "ATHAPOOKOLAM" and they dressed as kerala people and as "Mahabali chakravarthi".
---
CHILDRENS DAY – 2022
We conducted the following competitions for the Children's Day.
Std I – Fancy dress competition
Std II -Fancy dress competition
Std III -Tamil Handwriting competition
Std IV – Drawing competition
Std V – Thirukkural competition
Sports competitions were conducted for Standard I to V students.
Tmt. G. Chandrakala, Headmistress, gave gifts for students who had won in the competition.
---